Name and age:
Nicky, age undisclosed.
Do you want to be voted as a (Pick one: boy/girl/doesn't matter):
Doesn't matter.
POST
THE LINKS TO FIVE APPLICATIONS YOU HAVE VOTED ON (if there are none
available, or only a few, you can put N/A for the remaining spaces):
1.
2.
3.
4.
5.

Favorite KH character and why:
I've only played I, CoM, II and 358/2, but out of those there are so many characters I really like. Too many to pick and absolute favourite straight away but if you made me pick one? Probably Sora himself.
Favorite Disney movie and why:
I didn't grow up watching very many Disney movies as my dad was a Don Bluth fan, so I got a lot of those when I was younger. I did have The Lion King though, and I really loved it. Now that I'm older, my favourite recent one is Tangled. I really love the coming-of-age story in which a girl learns to think for herself and find her own place in the world. And littlekid!me would have liked it because she had super-long hair like I did. ;D
Strengths:
I think probably my greatest strength is creativity. I like to look at normal, every day things and discover the beauty (or ugliness) there and translate that into a different medium. I can't/don't draw, but I make music and write. I'm a hard worker and a perfectionist when it comes to my studies. I like to make sure that if I'm not
the
best, then I'm at least
one
of the best at what I'm doing.
I tend to gravitate towards and enjoy the company of people on the margins of a group, as it's where I usually am.
Pretty good with words I guess?
Weaknesses:
I've been made aware of quite a severe inferiority complex. I'm aware that I'm really my own problem and enemy in that sense, but it doesn't really help - I still find other people intimidating and thus don't enjoy large group interactions. I'm pretty quiet and don't really like being around people that much, and I often find myself just plain not liking other human beings in general. I rocket between loving people and wondering why I bother putting up with them.
It's pretty easy to upset me or get me down, and I tend to stay down for a while.
And my brain and numbers are not friends. I can't work numbers.
Hobbies, interests:
Writing (prose, poetry), singing, guitar, piano, reading (mostly fantasy or dystopian), listening to music, video games, coffee.
Something unique about you:
Haha, I'm not really sure what counts as unique! I've got like six Irish Dancing trophies from my childhood. Maybe that counts as unique around these parts?
Your ideal home?:
Old meets new; I'd like a fairly new house (I'm scared of spiders and old houses = more massive spiders) with a vintage twist with regards to decor. Preferably three-bedroom as I'd like a family some day, in a small, peaceful village that's still in reach of the city.
What type of people are your friends?:
What type are they not? All my friends are completely different, with a wide range of personal interests and desires. I'm generally pegged as the ~artsy, creative~ kind of one, while my friends are majoring in things like youth work, chemistry, social work, teaching, accounting... so as you can tell we're all pretty different and it's hard to describe us as a whole. I'm tl;dring
Sword, staff or the shield?:
Sword
What's most important to you:
My faith
Worst fears:
Wasting my life - just getting to the end of it and realising that I'm leaving nothing worthwhile behind.
What you want out of life:
Joy
You share your paopu fruit with (be creative!):
I can't be creative, it has to be my partner. xD
Appearance (photos are optional):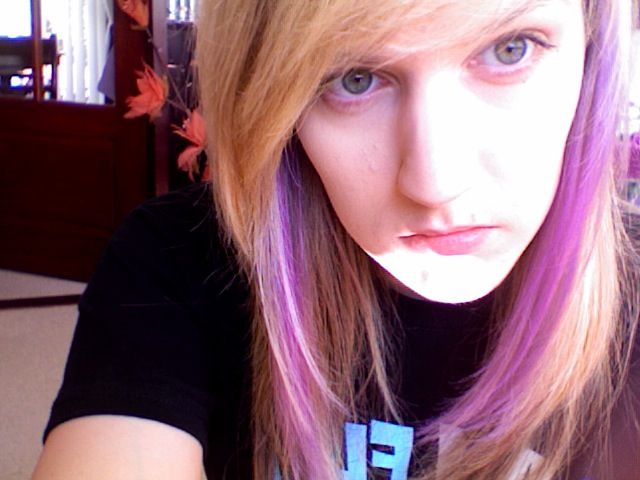 Lol at my SRS FACE in that second one.
How do you think you would look if you were a KH character?:
Hmm... I dunno. Awesome?
Who suggested that you come here?:
I just kind of ended up here.